The next generation of "Wheel of Fortune" kids momentarily took over for the beloved game show Wednesday night.
On the "Wheel of Fortune" social media page, Pat Sajak's daughter Maggie interviewed Vanna White's son Nikko in a segment titled, "The Spin with Maggie Sajak."
The two reminisced on old memories of growing up together while being in the spotlight as the "Wheel of Fortune" hosts' children.
"We have known each other my whole life," Maggie began. 
MAGGIE SAJAK TEASES 'WHEEL OF FORTUNE' APPEARANCE: 'TONIGHT'
"It's been a long time," Nikko responded. 
Maggie reflected on funny moments the two had together, as she admitted her mother "dug" a memorable video of Nikko.
In the video, Maggie's mom encourages Nikko to give her daughter a kiss on the cheek, but then she hits him in the face.
"I would like to apologize," Maggie laughed. 
"That's the reason why I never tried to kiss you on the cheek again," Nikko told her.
"Gosh, we really dodged a bullet there," she joked.
APP USERS CLICK HERE TO SEE VIDEO
The interaction comes after Maggie filled in for White as she participated in an episode of "Celebrity Wheel of Fortune."
Nikko continued to express how ecstatic he was to support and cheer on his mother from the audience.
'WHEEL OF FORTUNE' HOST PAT SAJAK'S DAUGHTER MAGGIE STUNS AS SHE PREPARES TO FILL IN FOR VANNA WHITE
"Got to see mom [play] against some of the smartest people in the world, which was really interesting," he said.
White joined "Jeopardy!" hosts Ken Jennings and Mayim Bialik for "Wheel of Fortune: Ultimate Host Night."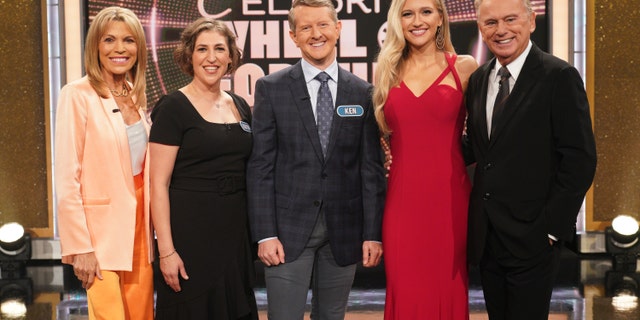 "She put in the fight … she did a great job," Nikko added.
He also congratulated Maggie and said she did an "awesome" job filling in for his mother.
"She taught me well," Maggie said.
Later in the clip, White joined Maggie and Nikko, as she suggested her son kiss Sajak's daughter on the cheek.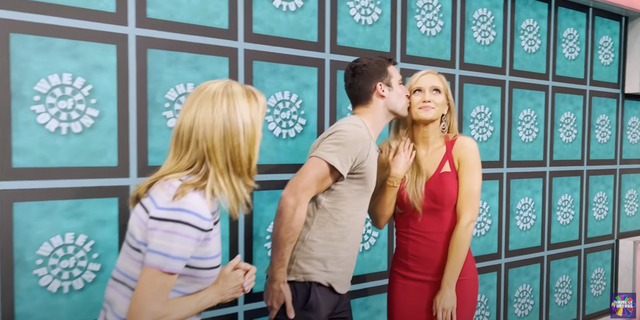 After Nikko plants a smooch on Maggie's cheek, White reacted and said, "We've come full circle, now."
"All my PTSD is over with … the whole slapping on the face, I feel a lot better now," Nikko quipped.
"Wheel of Fortune" fans enjoyed seeing Maggie and Nikko's friendly interaction as a comment read, "What a gorgeous couple they would make!"
"They are so cute together. Would make a great couple," another fan wrote.
Other comments read, "What great kids!! I do see a future 'Pat & Vanna' there!!!"
Maggie went on to share her hosting moments on Instagram for the special episode of "Wheel of Fortune."
"It was an HONOR filling in for you tonight @officialvannawhite! And congrats on raising $30,000 for @stjude!"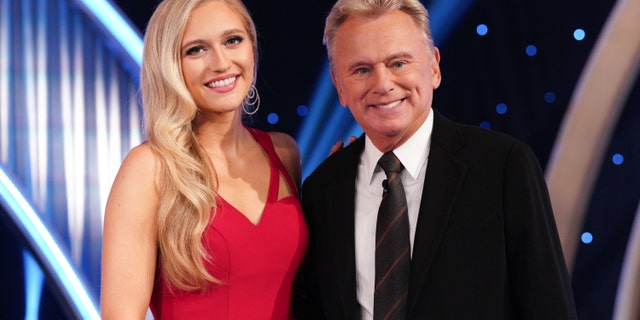 CLICK HERE TO SIGN UP FOR THE ENTERTAINMENT NEWSLETTER
Maggie's father pointed out how proud he was of his daughter during an emotional moment after the popular game show aired.
"As your father, it's hard not to be moved by when your little girl comes out…well you're not a little girl," Pat remarked.
APP USERS CLICK HERE TO SEE VIDEO
In a clip teasing the episode, Sajak held back tears and said, "I think I'm going to cry."
Sajak and White have both renewed their contracts with the show through the 2023-24 season.
CLICK HERE TO GET THE FOX NEWS APP
"Wheel of Fortune" premiered on television in 1975. Sajak started hosting in 1981, with co-host White joining him the following year.