Since the start of the pandemic, virtual visits with doctors have grown increasingly in popularity. These online visits were originally meant to keep people from contracting COVID-19, but now, many people opt to use telemedicine apps because of convenience and low costs.
Let's dive in and see if telemedicine is the right option for you and what great apps you can start using today.
SIGN-UP FREE FOR KURT'S CYBERGUY REPORT NEWSLETTER WITH QUICK TIPS, TECH REVIEWS, SECURITY ALERTS AND EASY HOW-TO'S SENT TO YOUR INBOX
Why should I use a telemedicine app?
Telemedicine apps offer lots of benefits that could immensely help people who live in rural areas or those who don't have great insurance (or even no insurance at all).
For those who live far away from a major town or city and would have a hard time getting to a doctor's office, telemedicine apps provide convenience by eliminating the need to physically travel, find parking and wait in a crowded waiting room when you're sick. Instead, you can see a doctor from the comfort of your own home.
There is also the benefit of being able to connect with a specialist from anywhere in the world. If you need to see certain doctors and do not live anywhere near where they're located, you can simply schedule virtual appointments to meet with them instead.
ARE YOUR STEPS TOTALLY OFF FOR YOUR 2023 FITNESS GOALS?
Saving money is another huge advantage of telemedicine apps, as telemedicine visits are typically less expensive than in-person visits.
Are there disadvantages to using a telemedicine app?
Perhaps the biggest disadvantage of using a telemedicine app is that not every doctor's visit can be done virtually. Depending on your health needs, some doctors need you to come to their offices so that they can perform bloodwork, imaging tests and other procedures that require hands-on work.
There is also the concern of what your insurance plan covers. Although telemedicine apps often make doctor visits cheaper and most health insurance companies do cover Telehealth costs, there isn't a guarantee that your insurance will cover everything. It's a good idea for you to reach out to your health insurance company if you have one and see what they can and cannot cover before making an appointment.
The other risk is security. Because everything with telemedicine apps gets transferred digitally, there's always a risk of your information getting hacked by the wrong person. Make sure that the app you're using has good security measures and that the device you're using for your virtual appointments has antivirus software installed.
What are some of the best telemedicine apps available?
Now that we've gone over the pros and cons of using a telemedicine app, here are five of the best ones that can be used both on iPhones and Androids.
1. Teladoc
iPhone: 4.8 stars (at the time of publishing) 
Android: 4.0 stars (at the time of publishing) 
Teladoc is a popular telemedicine app that offers virtual consultations with doctors and other health care providers. You can connect with licensed physicians 24/7 for non-emergency medical issues such as colds and the flu, pink eye, sore throats and more. Depending on your coverage, you can also be eligible for programs that help manage conditions like diabetes and high blood pressure. They even offer specialists for mental health needs, nutrition and dermatology.
2. Doctor on Demand
iPhone: 4.9 stars(at the time of publishing) 
Android: 4.8 stars(at the time of publishing)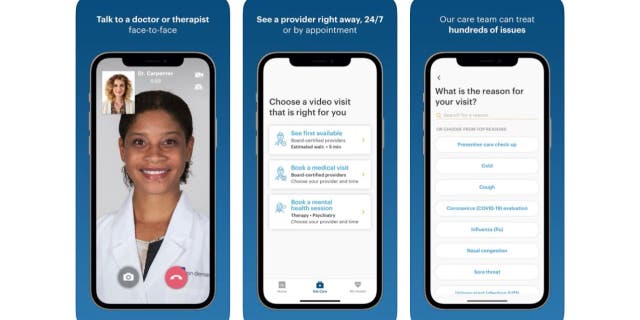 Doctor on Demand is a telemedicine app that connects users with board-certified physicians, psychiatrists and licensed therapists. The app is available 24/7, 365 days per year including weekends and holidays, and consultations are conducted via video chat. They can cover pretty much anything from acne to screenings for high cholesterol and even headaches and migraines. Services through the app are available whether you have insurance or not and they can even partner with many top employers and health plans to reduce the cost of your appointment.
3. Amwell
iPhone: 4.9 stars(at the time of publishing) 
Android: 4.3 stars(at the time of publishing)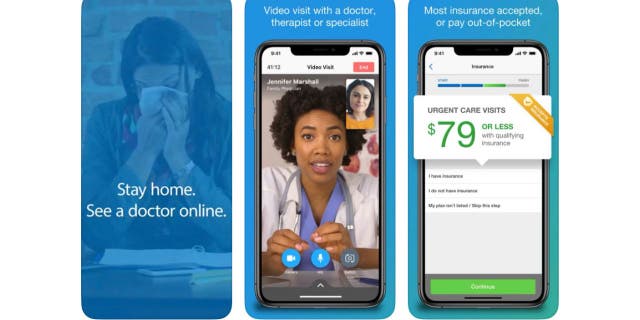 Amwell is a telemedicine app that offers virtual consultations with licensed health care providers, including doctors, therapists and nutritionists. You can access the app 24/7 and receive care for a variety of non-emergency medical conditions. You can tell them your insurance provider, or if you do not have insurance, they give a list of what each type of visit costs so that you know before committing to an appointment. Depending on your needs, a visit with Amwell can cost anywhere from $70-$269 without insurance. They also stress on their page that the patient's privacy is taken very seriously and all visits are HIPAA-compliant.
4. MDLIVE
iPhone: 4.7 stars(at the time of publishing) 
Android: 4.7 stars(at the time of publishing)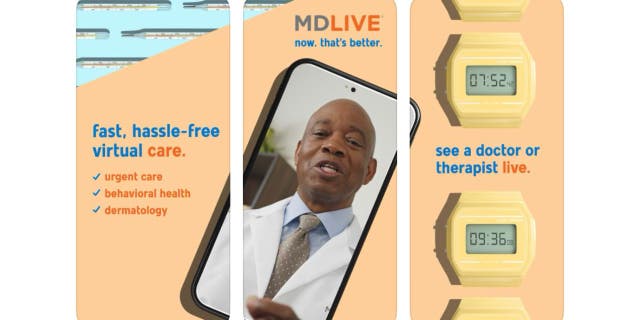 MDLIVE is a telemedicine app that provides virtual consultations with board-certified physicians and licensed therapists. You can access the app 24/7 and receive care for over 80 non-emergency medical issues, including allergies, COVID-19 assessments and more. They also support a wide variety of mental health issues, including panic disorders, post-traumatic stress disorder (PTSD) and more. MDLIVE is not available in every state, however, it's a great option if covered in your state.
5. PlushCare
iPhone: 4.9 stars(at the time of publishing) 
Android: 4.6 stars(at the time of publishing)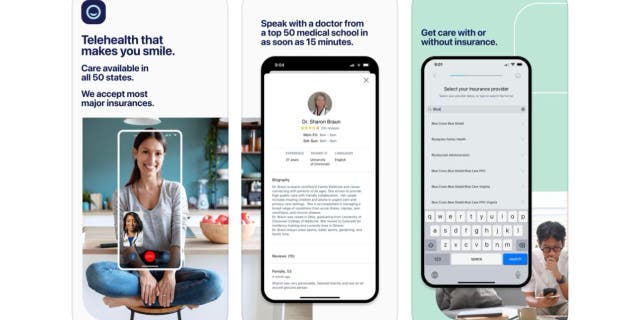 PlushCare has over 300,000 users, and its physicians come from the top 50 U.S. medical schools. According to their app's page, 97% of conditions are treated on the first visit and if the online doctor is unable to treat you, the appointment is free. They offer virtual primary care for ongoing conditions and virtual urgent care for non-emergency conditions. They can also prescribe a wide variety of medicines.
SLEEP BETTER TONIGHT WITH THESE TOP-RATED APPS AND ACCESSORIES
Final thoughts
Telemedicine apps have become increasingly popular since the start of the pandemic, providing convenience and cost savings. However, not every doctor's visit can be done virtually, and insurance coverage can vary. Additionally, security risks should be considered when using these apps.
Have you tried these telemedicine apps yet? Let us know how they work for you.
CLICK HERE TO GET THE FOX NEWS APP
For more of my tips, subscribe to my free CyberGuy Report Newsletter by clicking the "Free newsletter" link at the top of my website.
Copyright 2023 CyberGuy.com. All rights reserved.